The Moro Group has been building and selling quality real estate in Milan since 1936
In more than eighty years of intense activity in the residential, industrial and commercial real estate field, the Moro Group has never lost sight of its original values, working day by day with the utmost professionalism and dedication. Year after year, the group has gained a wealth of knowledge and experience by tackling ever-new challenges.
Alberto Moro
I founded Moro Real Estate in Milan in 1994, drawing on the relations and experiences built by my family in over eighty years of experience in the real estate market. Excellence, punctuality and reliability have always been my family's underlying values, backed by the constant pursuit of quality.
Through the experience gained over the years, I have covered several important positions:
Since 2017, first Vice-President and then President of ASPESI Milano (Italian Association of Real Estate Development and Property Companies)
Since 2014, member of the Board of Directors of FIABCI Italia (International Federation of Real Estate Professionals)
The quality services offered by Moro Real Estate have earned the recognition and appreciation of the CEOs and employees of major multinationals in the Milan area. Moro Real Estate has been registered in the Japanese Chamber of Commerce since 2000.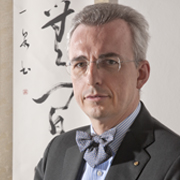 Some of our successes
Corso Matteotti 3, Milano Destinazione d'uso:
residenziale, uffici
Costruzione Gruppo Moro, 1936
Via Cerva, Milano
Destinazione d'uso:
box
Venduto nel 1994
Via Fiori Chiari 10, Milano Destinazione d'uso:
residenziale, commerciale
Venduto nel 1996
Piazza Nigra 1, Milano Destinazione d'uso:
residenziale, commerciale
Venduto nel 1999
Via Tertulliano 8, Milano Destinazione d'uso:
residenziale
Venduto nel 2000
Palazzo Canon, San Donato Destinazione d'uso:
terziario direzionale
Venduto nel 2002
Via Pollak 8, Milano Destinazione d'uso:
residenziale, commerciale
Venduto nel 2003
Via De Castillia 10 (Porta Nuova) Destinazione d'uso:
residenziale
Venduto nel 2005
Via Marussig 3, Milano Destinazione d'uso:
residenziale
Venduto nel 2006
Via Losanna 22, Milano Destinazione d'uso:
residenziale, commerciale.
Venduto nel 2010